A-Frame Trolley
Material Handling Equipment
A-Frame Trolley
Make Transporting Large Items Easy with the A-Frame Trolley
The A-Frame Trolley is a versatile and reliable solution for transporting large flat items in industries such as wood, glass, and marble. It has been designed to provide maximum stability and ease of use, so you can get your heavy lifting done with ease and is perfect for a wide range of applications.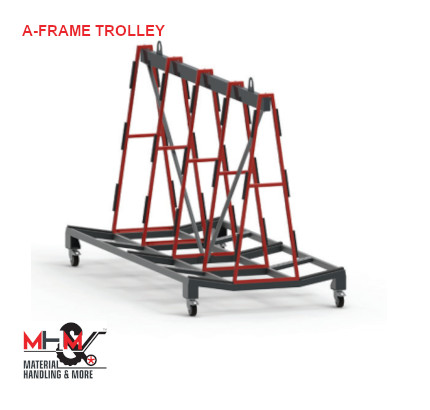 Features:
Sturdy A-frame design for stability.

Four wheels for easy maneuverability.

Heavy-duty construction for durability.

Durable powder-coated finish for long-lasting use.
Benefits:
Saves time and effort in transporting heavy loads.

Reduces the risk of injury or damage to items due to its stable design.

Can be easily maneuvered in tight spaces.

Versatile design can be used for a variety of items.
Applications:
The A-Frame Trolley is ideal for use in the wood, glass, and marble industries:
Can be used to transport large sheets of material such as glass, marble, stone and wood.

Great for use in factories, workshops, and warehouses.

Transporting large wood panels and boards.

Moving glass sheets and mirrors.

Handling marble slabs and tiles.

Make your large item transport needs easier with the A-Frame Trolley and experience the benefits. Contact us today to learn more.