Slat Conveyor
Material Handling Equipment
Slat Conveyor
Revolutionize Your Material Handling Process with Slat Conveyor for Steel and Wood Industries
Our Slat Conveyor offers a robust and effective material handling solution for the steel and wood industries. Its sturdy build and advanced features enable it to handle even the toughest conditions and heavy loads. This allows you to enhance your workflow and boost productivity with greater flexibility and reliability.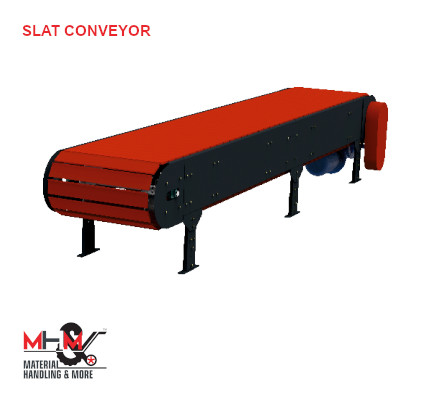 Features:
Heavy-Duty Construction: Our Slat Conveyor is built to last, with a sturdy frame and high-quality materials that can handle even the toughest conditions.

Advanced Control System: Equipped with an advanced control system that allows you to easily adjust speed and direction, giving you full control over your material handling process.

Easy Maintenance: The simple design of the Slat Conveyor makes it easy to clean and maintain, reducing downtime and increasing uptime for your operation.

Quiet Operation: With its advanced noise-reducing features, it operates quietly, reducing noise pollution in your workplace and creating a more comfortable working environment for your employees.

Benefits:

Increased Efficiency: Our Slat Conveyor can help you reduce labor costs and increase efficiency in your workplace by automating your material handling process.

Improved Safety: Designed with safety in mind, reducing the risk of accidents and injuries in your workplace.

Versatile Applications: Suitable for a variety of applications, including transporting heavy materials, sorting and separating products, and more.

Applications:

Steel industry: Ideal for transporting steel plates, bars, and other heavy materials, as well as sorting and separating products in the steel manufacturing process.

Wood industry: Perfect for transporting lumber and other wood products, as well as sorting and separating products in the wood manufacturing process.

Experience unparalleled efficiency and productivity with our Slat Conveyor. Contact us now to learn more!