Roller Conveyor
Material Handling Equipment
Roller Conveyor
Streamline Your Material Handling Process with Roller Conveyor for Steel and Wood Industries
Our Roller Conveyor is an essential piece of equipment for the steel and wood industries, offering a durable and reliable solution for material handling needs. Crafted with high-quality materials and advanced features, our roller conveyor is built to last and can help increase efficiency in your workplace.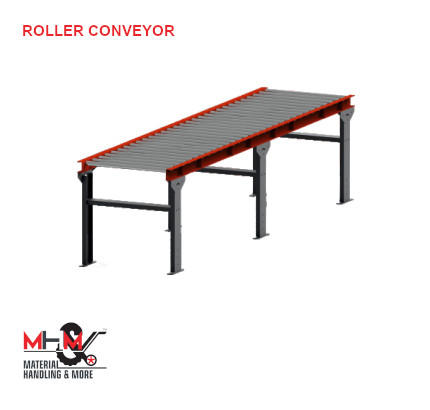 Features:
High-Quality Materials: Our roller conveyor is made from durable materials that can withstand heavy loads and tough working conditions.

Customizable Design: Our roller conveyor can be tailored to your specific needs, with options for different lengths, widths, and configurations.

Smooth and Quiet Operation: Our roller conveyor is designed with precision bearings and a smooth surface, providing a quiet and efficient transport for your materials.

Easy Maintenance: Our roller conveyor requires minimal maintenance and can be easily cleaned and serviced for maximum uptime.
Benefits:
Increased Efficiency: Our Roller Conveyor can help you transport materials quickly and efficiently, reducing labor costs and improving productivity.

Versatility: Handle a wide range of materials, including heavy steel beams, lumber, and other products.

Space-Saving: Can to fit into tight spaces, making the most of your workspace.

Reduced Risk of Damage: Provides a smooth and secure transport for your materials, reducing the risk of damage and improving safety in your workplace.

Low Maintenance: Requires minimal maintenance, making it a cost-effective solution for your material handling needs.

Applications:

Material Transportation: The Roller Conveyor can be used to transport heavy materials over long distances, reducing the need for manual labor and increasing efficiency.

Sorting and Separation: It can be used to sort and separate products, making it an ideal tool for warehouses and distribution centers.

Assembly Lines: Can be integrated into assembly lines to streamline material handling and increase efficiency.

Invest in our Roller Conveyor to streamline your material handling process and increase efficiency in your steel and wood industry operations. Contact us now to learn more!