Lifting Tackle
Material Handling Equipment
Lifting Tackle
Improve Efficiency and Safety in Manufacturing & Transportation with Innovative Lifting Tackle
Our Lifting Tackle is the perfect tool for steel manufacturers, providing a safe and efficient solution for lifting and moving heavy loads of steel. It is made from high-quality steel and comes with an ergonomic design for comfort and ease of use. With its reliable locking mechanism and improved workflow, it is an invaluable asset that will improve the productivity of any steel manufacturing facility. It is a must-have for any steel manufacturer looking to streamline their production process.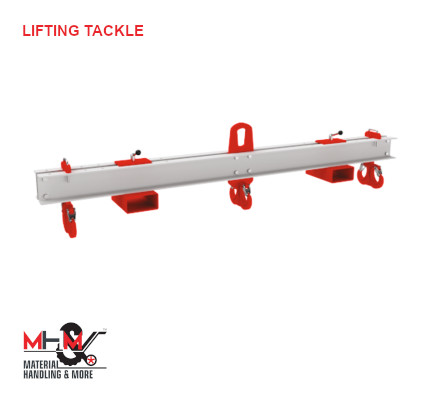 Features:
High-Quality Steel Construction: Made from high-quality steel, ensuring its durability and long-lasting performance.
Unique Design: Designed with a unique shape that allows for easy lifting and moving of heavy loads, reducing the risk of accidents and injuries.
Easy to Use: With a simple yet effective design that requires minimal training for your employees.
Improved Workflow: Allows for efficient and safe movement of loads while improving workflow and production.

Ergonomic Design: Features an ergonomic design that is comfortable to use and reduces fatigue.
Benefits:
Improved Efficiency: You can streamline your manufacturing process and move heavy loads quickly and easily, improving your overall efficiency.
Cost-Effective Solution: That will save you time and money in the long run by reducing the risk of damage to your products and equipment.
Applications:
Steel Manufacturing: Our Lifting Tackle is the perfect tool for lifting and moving heavy loads of steel during the manufacturing process.
Construction: Also ideal for construction projects that involve heavy steel materials.
Transportation: It can be used to load and unload heavy steel products during transportation, making it a versatile tool for your business.
Invest in our Lifting Tackle today and experience the benefits of improved efficiency and safety in your manufacturing process. Contact us now to learn more!