Panel Dolly
Material Handling Equipment
Panel Dolly
In today's industrial setup, work is carried out in a fast-paced and methodical way. No longer are a large number of people employed to do heavy duty labour. They are replaced by machines that can do the same task at a fraction of the time.

An important equipment that is needed on a daily basis in a manufacturing unit or a warehouse is the Panel Dolly. It can be used to efficiently move long and heavy panels that are awkward to manage and take time to transfer from one place to another. Efficient raw materials management is the key to successfully running a vast industrial setup. At various times of the day, materials such as panels need to be moved for the production process. By using MH&More Panel Dolly, this task can be done rapidly and in the most cost effective way.
Panel Dolly – Eases Material In Large Industrial Setup
One of the most important features of MH&More Panel Dolly is that it can be used to move heavy panels safely. Made from strong and long-lasting steel, it shifts panels made from various materials and of different sizes in a secure way, as and when required to their designated destinations.
Our Panel Dolly is specifically designed to securely hold sheet metal panels in place while also allowing for easy transportation between locations. With options of 35 mm, 50 mm, and 100 mm, the Panel Dolly can accommodate different thicknesses of sheet metal panels.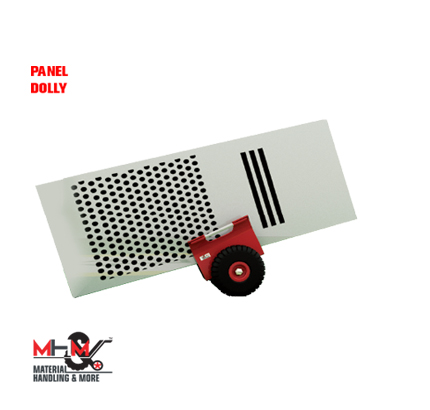 Benefits of Panel Dolly:
Has simple controls which makes operation quick and easy
Has a structure that is sturdy, strong and which can be used extensively and continuously without break it or wear and tear
Comes with smart disassembly features which enable it to be broken down quickly for maintenance or repairs
Tough design enables it to be used extensively for long hours with breakdown
Comes with a unique grip that makes way for easy and efficient management
Can be used for hours to move panels safely and reliably from storage to the manufacturing unit
The sturdy wheels of our panel dolly for industrial use enables movement of long and heavy objects with ease. No need to worry about the structure having breakage due to heavy load as it has been designed to take on an enormous amount of weight under the most difficult industrial environment. We are a panel dolly manufacturer providing the latest models with the latest features and affordable pricing.
Its design keeps the panels securely and moves it to the desired spot as and when needed. With it, you will find that a lot of panels can be moved in a single day without any damage, thus preventing losses that arise due to materials management. Call now to place an order for our high quality, sturdy and long lasting Panel Dolly!
Product Name
Panel Dolly
Model No.
MHM-PD-12
MHM-PD-14
Primary Industry Application
Panel Moving
Panel Moving
Loading Capacity
200 Kgs max
200 Kgs max
Product Size
300 X 220 X 325 mm
300 X 270 X 325 mm
Product Weight
12 Kgs
14 Kgs
Platform Width
50 mm
100 mm