Horizontal Panel Rack P2A2
Material Handling Equipment
Horizontal Panel Rack P2A2
Transport Your Wooden Panels and Boards with the Horizontal Panel Rack
The Horizontal Panel Rack is the perfect solution for moving and transporting wooden panels and boards in the wood industry. With its sturdy construction and versatile design, it offers a range of unique features that make it the ideal choice for any woodworker.
Its mobility allows for convenient transportation of wooden panels and boards from one location to another, reducing the time and effort needed for manual transportation.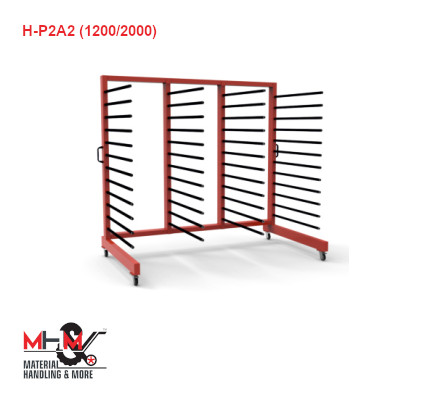 Features:
Consists of 2 pillars with 2 adjustable ones for added stability.

Equipped with 12 coated rod shelves for storing multiple panels and boards.

Offers 96mm clearance between shelves to accommodate various sizes.

Available in length options of 1200mm and 2000mm.

Can hold a maximum total load capacity from 400 to 500 kgs.
Benefits:
Provides a mobile and efficient solution for transporting wooden panels and boards.

Saves space in the workshop by storing panels and boards vertically.

Coated rod shelves protect panels and boards from scratches and damage.

Adjustable pillars offer flexibility in accommodating different sizes of panels and boards.

Easy to move and transport with the help of the castor wheels.
Applications:
Our Horizontal Panel Rack is ideal for use in the wood industry for storing and transporting panels and boards.

Suitable for woodworking workshops, factories, and warehouses.

Can be used to store and transport a variety of wooden panels and boards, including plywood, particleboard, MDF, and more.

Offers an organized and efficient way to store and transport panels and boards in a vertical position.
Invest in our Horizontal Panel Rack today and enjoy the convenience and efficiency it brings to your wood industry operations. Contact us today to learn more.