Scissor Lift
Material Handling Equipment
Scissor Lift
Boost Your Material Handling Efficiency with Scissor Lift for Steel and Wood Industries
Our Scissor Lift is a versatile and reliable material handling solution that is perfect for the Steel and Wood industries. With its unique design and advanced features, this lift can help you streamline your material handling process and improve efficiency in your workplace.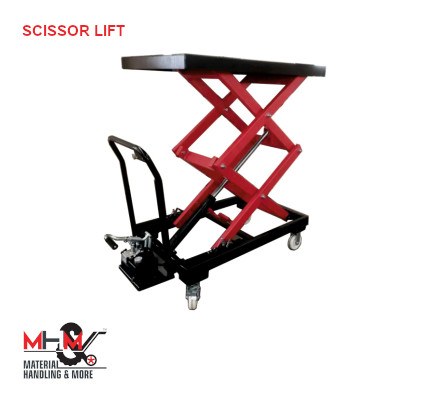 Features:
Heavy-Duty Construction: The Scissor Lift is built to last, with a sturdy frame and high-quality materials that can handle heavy loads and tough working conditions.

Easy to Use: Designed with ease of use in mind, featuring intuitive controls and simple-to-operate functions that make it user-friendly.

Smooth and Stable Lifting: Delivers a smooth and stable lifting experience, ensuring that your materials are transported with utmost safety and security.
Benefits:
Enhanced Efficiency: OurScissor Lift can help you move materials quickly and efficiently, reducing the time and effort required to handle heavy loads.

Increased Safety: With its stable lifting platform and advanced safety features, our scissor lift reduces the risk of accidents and injuries in the workplace.

Versatile Applications:Suitable for a wide range of applications, including loading and unloading materials, moving heavy equipment, and more.

Applications:

Our Scissor Lift is ideal for use in the Steel and Wood industries, where it can be used for a variety of tasks, such as:

Transporting materials from one location to another

Loading and unloading trucks

Moving heavy equipment and machinery

Stocking and restocking materials on high shelves
Investing in our Scissor Lift is an investment in your workplace efficiency and safety. Contact us today to learn more about this versatile and reliable material handling solution.