Drop Pallet
Material Handling Equipment
Drop Pallet
MH&More Drop Pallet offers an efficient means of storing various types of metal sheets. It is a must to keep them in pristine condition till they are required by the manufacturing unit. They must not get corroded, eroded or damaged and must be stored in the most efficient way.
One of the key areas of concern in a large warehouse or manufacturing unit is organized storage of materials which enables faster production and also cuts losses arising due to material damage or injury to workers due to improper usage. By keeping metal sheets of varying sizes and materials in our high quality Drop Pallet structure, they can be easy accessed as and when needed plus stored neatly. This structure enables proper planning of material stock and their usage.
Drop Pallet – Sturdy Storage Equipment, Efficient Performance
Make use of MH&More drop pallet to store metal sheets allowing them to be neatly organised. The beam design enables you to easily lift materials and put them inside. The structure is made from high quality steel which can withstand difficult environment that is usually present in warehouses and manufacturing units.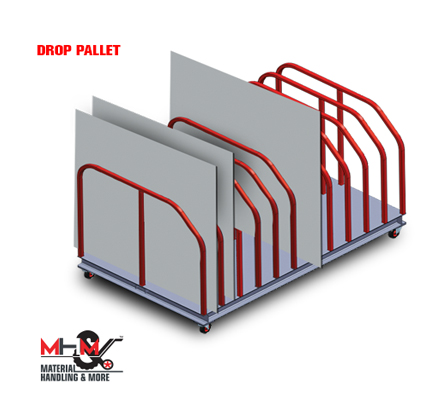 Benefits of Drop Pallet Storage System:
The unique feature about MH&More drop-in panel pallet rack, materials storage system is that it can be used to store both light and heavy weight metal sheets and also prevent them from getting damaged. We are a drop pallet manufacturer offering the latest model at a very affordable price.
Structure is strong, sturdy and durable making way for long lasting usage
Used to store metal sheets made from different types of materials and in various sizes
Is compact enough to be placed in a small area of the warehouse but has a capacity to store a large number of sheets
Structure enables ease of maintenance hence not much time and effort has to be spent in keeping it in good condition
Enables you to store a good number of metal sheets in a single space thus saving floor space and enabling you to have more area for other activities
By using it, workers will not get injured accidentally falling on a metal sheet lying on the floor hence it enhances job safety on the site. Items can be simply sorted out on the drop pallet making them easy to access. You can view the number of items inside which enables you to determine whether they are in the right quantity or if they need to be ordered for the production unit. Get in touch with us for drop pallet storage system which is sturdy, offering ample storage!
Product Name
Drop Pallet

Model No.

MHM-SDP-11

Primary Industry Application

Sheet Metal handling & movement

Sheet Dimensions
(L x W x H)

150 x 1250 x 1250 mm 

No. of Slots

11

Loading Capacity

2,000 kgs

Product Size (L x W x H)

2100 x 1250 x 1250 mm