Bar And Pipes Storage Cantilever
Material Storage Systems
Bar And Pipes Storage Cantilever
MH&More offers high quality Bar And Pipes Storage Cantilever through which you can store various types of pipes and bars that will be required for use in an industrial setup on a daily basis.
It is safe and efficient means of keeping such items in perfect condition till they can be put to use.
Why is A Bar And Pipes Storage Cantilever Needed?
All items can be stacked into it in an organized way, which enables easy access as and when required. We offer a structure that is strong, capable of being used extensively for long periods and made from high quality steel which will not corrode or erode under tough work conditions.
Make use of MH&More cantilever pipe storage rack to keep various types of metal items always in stock. The structure's base is very strong as it is made from steel that prevents any form of breakdown. The material is such that it can be easily disassembled, thus making way for quick maintenance as and when required.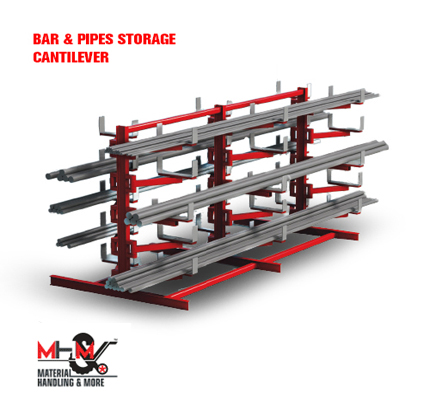 Benefits of Bar And Pipes Storage Cantilever:
It is enforced with extra strength to safely hold bars, pipes, rods, tubes and other long and heavy items in bulk quantities securely. Industry standard welded reinforcement is infused into it to give added durability. Each rack in the cantilever can be easily pulled as and when needed to keep items.
 Has enough capacity to which stands the weight of different types of metal bars and pipes
 Can be used to store bars and pipes that are made from different types of metals
 Structure of the storage cantilever is such that it can be used to easily stack bars and pipes
 Is made from strong and durable steel which will not get corroded due to the tough environment in a production centre
 Can be placed close to the production system so that pipes and bars can be easily removed for the manufacturing process
 Structure is tough enough to store a large load of pipes and. bars at the same time
You will find MH&More bar & pipes storage cantilever to be sturdy, strong storage systems in material handling. It has a compact design, which enables it to be placed in a small area thus freeing up floor space in a warehouse of production facility and also ensuring that people don't trip or fall over such materials as they move about the place. Pipes of any length can be kept securely in it for long periods. It can also be scaled in size as the storage need increases. Get in touch with us for the best bar & pipes storage cantilever at highly affordable price!
Product Name
Bar & Pipes Cantilever

Model No.

MHM-BPSC-10-6000

MHM-BPSC-10-4000

Primary Industry Application

Bar, Pipes, Rods & Tubes storage

Bar, Pipes, Rods & Tubes storage

No. of Trays

5 + 5

5 + 5

Loading Capacity per Tray

1.5 tons

1.5 tons

Total Loading Capacity

15 tons

15 tons

Length

6,000 mtrs

4,000 mtrs

Usable Shelf
(H x W)

200 x 600 mm

200 x 600 mm