Horizontal Panel X Rack
Material Handling Equipment
Horizontal Panel X Rack
Maximize Your Floorspace with the Horizontal Panel "X" Rack
The Horizontal Panel "X" Rack is an adjustable mobile rack that provides an efficient and safe way to store and transport wooden panels. With two models to choose from, the H-P2X1 1200 and H-P3X2 2400, you can find the perfect fit for your specific needs. The H-P2X1 1200 features two pillars with one "X" and 1200mm length, while the H-P3X2 2400 has three pillars with two "X" and 2400mm length. Both models have 12 coated rod shelves with 96mm clearance between shelves, ensuring ample space for your panels.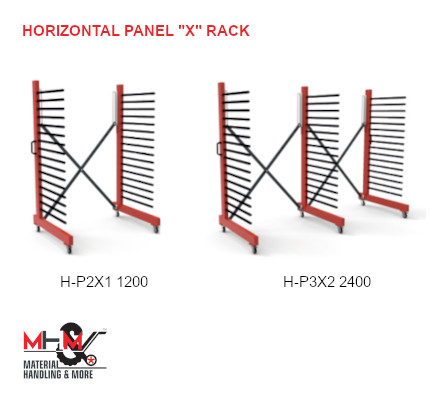 Features:
Adjustable design with 2 pillars and 1 "X" or 3 pillars and 2 "X" models available.

Shelf length of 600mm or 860mm, depending on the model you choose.

12 coated rod shelves that can hold a variety of wooden panels.

96mm clearance between shelves to accommodate larger panels.

Mobile design for easy transportation and positioning.

Sturdy construction that can handle a maximum load capacity.
Benefits:
Maximizes space and provides easy access to wooden panels.

Adjustable design accommodates different panel sizes and shapes.

Ample space for panels with multiple shelves and 96mm clearance between them.

Coated rod shelves prevent damage to panels during storage and transportation.

Mobile design allows for easy positioning and transportation around your workspace.

Sturdy construction ensures durability and longevity.
Applications:
The Horizontal Panel "X" Rack is perfect for the wood industry, especially for those who work with wooden panels.

Great for drying panels or storing them in a space-efficient manner.

Ideal for workshops or factories with limited space but a high volume of materials.

Invest in the Horizontal Panel "X" Rack today and make the most of your space while ensuring your wooden panels are stored safely and efficiently. Contact us today to learn more.