Sheet Storage Racks
Material Storage Systems
Sheet Storage Racks
One of the key concerns in a production facility is ensuring that their stock of metal sheets is in proper condition till they can be put into manufacturing process. They must not get bent, corroded or have any scratches on them. Their condition must be as good as new until they can be used.
By using MH&More Sheet Storage Racks, this problem can be reduced as it helps to stock metal sheets safely. No longer do you need to set aside a large space in the production facility for them as our compact metal sheet storage tower will hold such items securely.
Sheet Storage Racks – Tough, Durable and Long-Lasting!
Our sheet storage racks is high quality equipment that enables you to store metal sheets quickly, conveniently and safely. It can be used to store sheets made from aluminum, stainless steel and other metals and has the strength and structure needed to keep them securely. What you will notice about it is its compact size, good height and width by which metal sheets of varying sizes and weights can be kept easily inside.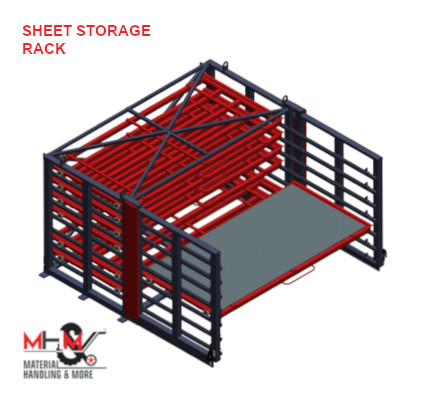 Benefits of Sheet Storage Racks:
Metal sheets of various sizes and weights can be loaded and unloaded from it easily
Can be used to keep not just regular metal sheets but also those of sensitive nature, securely
Nature of the design enables metal sheets to be easily accessed as and when required
Trays can be opened up quickly and also safely which prevents injury or damage to the metal sheets
Both metallic and non-metallic sheets can be stored in it
MH&More Sheet Storage Rack is offered in models of seven, five and three trays; hence you can choose a model that is suitable for your specific usage needs. It is a must for any production facility as it can be used to keep large, medium stocks of metal sheets intact till they have been put into the production process. It is a cost effective means of keeping metal sheets in stock and maintains them in their original condition till they are sent to the manufacturing unit.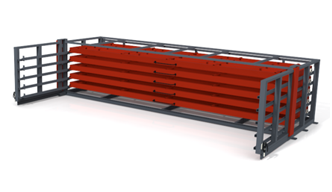 MH&More Xtreme Sheet Storage Racks
5 Trays / 15 - 20 - 25 tons total capacity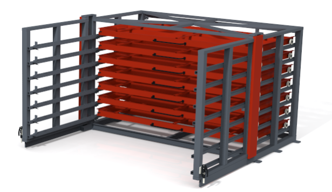 MH&More Mighty Sheet Storage Racks
7 Trays / 14 - 18 - 21 tons total capacity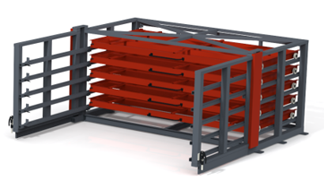 MH&More Bravo Sheet Storage Racks
5 Trays / 8 tons total capacity
Our Sheet Storage Racks is one of the most advanced storage systems in material handling with a modern design, strong steel structure and finishing that is smooth and beautiful. It will not get corroded or worn out; no matter how extensively it is used and even if it is put into a tough industrial environment for years together. It offers an ergonomic and safe means of storing metal sheets and other similar items in pristine condition. Contact MH&More right away to learn more about the different models in Sheet Storage Tower for efficient and safe storage.
Product Name
Sheet Storage Racks

Model No.

MHM Xtreme 1560-5

MHM Xtreme 2060-5

MHM Mighty 1530-7

MHM Mighty 1225-7

MHM Bravo 1530-5

MHM Bravo 1225-5

Primary Industry Application

Metal Sheet storage

Metal Sheet storage

Metal Sheet storage

Metal Sheet storage

Metal Sheet storage

Metal Sheet storage

Sheet Dimensions (W x L)

1.5 x 6.0 mtrs

2.0 x 6.0 mtrs

1.5 x 3.0 mtrs

1.2 x 2.5 mtrs

1.5 x 3.0 mtrs

1.2 x 2.5 mtrs

No. of Trays

5

5

7

7

5

5

Loading Capacity per Tray

3 - 4 -5 tons

3 - 4 -5 tons

2 - 2.5 - 3 tons

2 - 2.5 - 3 tons

1.5 tons

1.5 tons

Total Loading Capacity

15 - 20 - 25 tons

15 - 20 - 25 tons

14 - 18 - 21 tons

14 - 18 - 21 tons

8 tons

8 tons