Depalletizer
Material Handling Equipment
Depalletizer
MH&More offers high quality and modern Depalletizer, a modern material handling equipment, which enables removal of metal sheets securely from its package. In industries, such sheets are received in large quantities at a production unit. Their unpacking and storage process must be undertaken carefully to prevent damage. Opting for our Depalletizer, material handling equipment, helps to do this task efficiently and at low cost.
Depalletizer – Quick Unpacking Without Damage
When manual labor is employed in removing metal sheets from containers, there is bound to be damaged. Implementing MH&More Depalletizer helps to bring down such problems and assists in proper handling of metal sheets that need to be removed from their containers within a given time frame thus, saving on time, efforts in such tasks.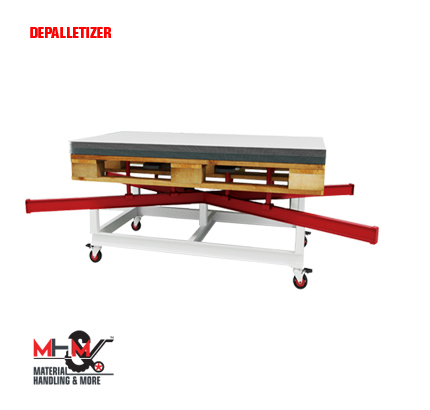 Benefits of Depalletizer:
Our Depalletizer, material handling equipment is compact, takes very little space and has a sturdy structure to manage heavy metal sheet items. It enables safe movement of such sheets from their wooden pallets into appropriate metal sheet storage towers. It works very smoothly with wooden pallets that have to be unpacked so that no damage happens in the process and that the metal sheet contents are in pristine condition. We are a depalletizer manufacturer offering this modern equipment at the lowest prices.
MH&More depalletizing equipment is a material handling machine with a robust construction hence it can be used continuously and extensively without worry about the breakdown of failure. As its body is made from high quality steel material, it can withstand work in strenuous industrial environments. Its modern design enables easy usage and within a couple of minutes, the desired number of pallets can be unloaded.
One of the key requirements when managing metal sheets in an industrial setup is maintaining hygiene and efficiency both of which are guaranteed with our Depalletizer. With it, the speed of removing metal sheets from wood pallets can be enhanced manifold enabling a vast amount to be removed and dispersed to the production unit for processing.
Investing in a single Depalletizer, material handling machine offers the benefit of saving huge labor cost as there is no need to employ a large number of people to do the work. It can be accomplished quickly, conveniently by this equipment, enabling a large number of metal sheets to be removed as and when required. Get in touch for our efficient depalletizer storage system that offers maximum storage space at minimal cost.
| Product Name | Depalletizer |
| --- | --- |
| Model No. | MHM-SDP-2000 |
| Primary Industry Application | Sheet Metal lifting & movement |
| Loading Capacity | 2,000 kgs |
| Product Size (L x W x H) | 3030 x 1650 x 800 mm |