All Terrain Pallet Truck
Material Handling Equipment
All Terrain Pallet Truck
Take Your Material Handling to the Next Level with All-Terrain Pallet Truck
Our All Terrain Pallet Truck is the ultimate solution for material handling in the steel and wood industries. With its robust construction and superior durability, this pallet truck can handle even the roughest terrain and most challenging environments. Designed to effortlessly transport heavy loads in any condition, our All Terrain Pallet Truck is perfect for moving materials over gravel, dirt, or uneven surfaces, providing you with the flexibility and versatility you need to tackle any job.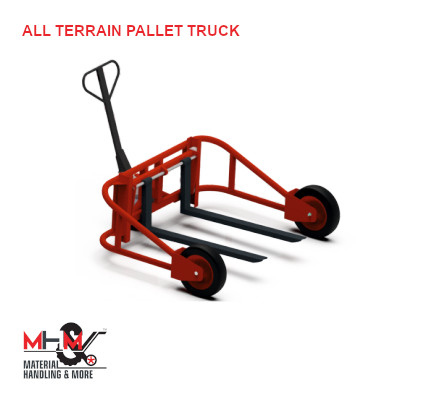 Features:
Heavy-Duty Construction: Made with a robust frame and top-quality materials, the All Terrain Pallet Truck can withstand even the harshest conditions, ensuring optimal performance and longevity.

All-Terrain Wheels: Equipped with large, rugged wheels, our pallet truck can easily traverse a variety of surfaces, including gravel, dirt, and uneven terrain.

Ergonomic Handle: Features an ergonomically designed handle that reduces operator fatigue and makes material handling more comfortable and efficient.

Enhanced Safety: Designed with safety in mind, with features like non-slip grips and stable footing that reduce the risk of accidents and injuries.
Benefits:
Versatility: Our All Terrain Pallet Truck is perfect for outdoor material handling, making it an ideal solution for steel manufacturing companies, lumber yards, construction sites, and other industrial settings.

Efficiency:With its ability to handle challenging terrain, it can help you save time and money by reducing the need for additional equipment or manual labor.

Durability:Built to withstand the demands of heavy use, the All Terrain Pallet Truck is a long-lasting investment that will provide reliable performance for years to come.
Applications:
The All Terrain Pallet Truck is perfect for a wide range of material handling applications in the steel and wood industries, including:
Moving heavy steel beams and pipes on construction sites

Transporting lumber and wood products through outdoor storage yards

Handling large and bulky materials in steel manufacturing facilities

Moving heavy equipment and supplies in warehouses and distribution centers
No matter your industry or application, it is the ultimate solution for taking your material handling to the next level. Contact us now to learn more!