Adjustable Slab Dolly
Material Handling Equipment
Adjustable Slab Dolly
Move Heavy Slabs with Ease - Adjustable Slab Dolly
The Adjustable Slab Dolly is an innovative solution for industries dealing with heavy slabs such as wood, stone, glass, and paper. This dolly has been designed to make moving slabs, wood panels, marble slabs, and other heavy materials effortless. It comes equipped with 3 wheels and adjustable spaces of 70mm to accommodate different slab sizes.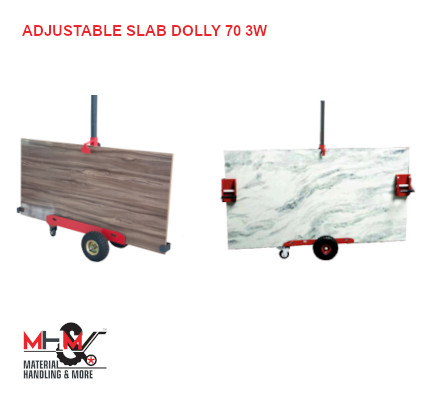 Features:
Adjustable Design: The Slab Dolly can be adjusted to fit a wide range of slab sizes, making it a versatile tool for industries dealing with various types of slabs.

Easy Maneuverability:The 3-wheel design of the dolly makes it easy to maneuver, even in tight spaces, and helps to prevent tipping and damage to slabs.

Heavy-Duty Construction: The dolly is made with high-quality materials, making it durable enough to handle heavy loads.
Benefits:
Increased Efficiency: The Adjustable Slab Dolly can help save time and effort when moving heavy slabs, increasing the efficiency of your operations.

Reduced Risk of Injury: By using this dolly, you can reduce the risk of injury to workers by eliminating the need for manual lifting and carrying of heavy slabs.

Versatile: The adjustable design of the dolly makes it suitable for use with a wide range of slabs, reducing the need for multiple dollies.
Applications:
Woodworking Industry: The Adjustable Slab Dolly is an ideal solution for woodworking businesses that handle heavy wood panels and slabs.

Stone and Marble Industry: This dolly can be used for moving heavy stone and marble slabs, reducing the risk of damage and injury.

Glass and Paper Industry: The Adjustable Slab Dolly can be used for handling heavy glass and paper panels with ease.
Streamline your slab-moving process with the Adjustable Slab Dolly today. Contact us to learn more about our product and how it can benefit your business.