Coil Storage Rack
Material Storage Systems
Coil Storage Rack
Maximize Your Storage Space with Coil Storage Rack for Large Metal Coil Bundles
If you work in the metal industry, you know how important it is to have a reliable and efficient storage system for large metal coil bundles. Our Coil Storage Rack is designed to provide just that. With its sturdy construction, racks and slots, and advanced features, our coil rack is the perfect solution for storing and organizing your metal coils.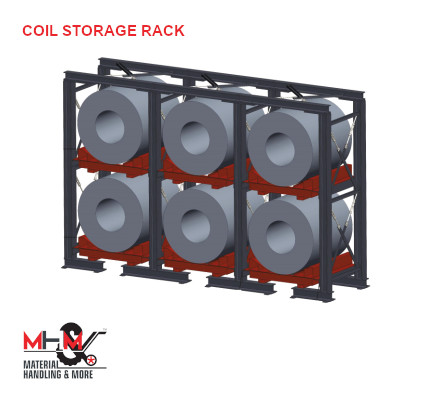 Features:
Robust Construction: Our Coil Storage Rack is built to last with heavy-duty steel construction, ensuring it can withstand the weight of large metal coils.

Easy Access:The open design of the rack allows for easy access to coils, making it easy to load and unload coils as needed.

Space-Saving Design: The rack is designed with a compact footprint, making it ideal for facilities with limited space.

Versatile: Our Coil Storage Rack is suitable for a wide range of industries, including steel mills, metal fabricators, and automotive manufacturers.
Benefits:
Improved Efficiency: By providing a reliable and organized storage system for your metal coils, our Coil Storage Rack can help streamline your workflow and increase productivity.

Space Optimization:With the efficient use of space provided by our coil rack, you can save valuable floor space in your facility.

Enhanced Safety: Our coil rack is designed with safety in mind, ensuring that your metal coils are securely stored and reducing the risk of accidents in the workplace.
Applications:
Our Coil Storage Rack is ideal for use in:
Steel manufacturing and processing plants




Warehouses and storage facilities




Other industrial settings




Distribution centres




Shipping and receiving areas



Whether you are looking to streamline your workflow or optimize your storage space, our Coil Storage Rack can benefit your business. Contact us now to learn more!