Edgeband Return Back Conveyor
Material Handling Equipment
Edgeband Return Back Conveyor
Increase Your Woodworking Efficiency with Edgeband Return Back Conveyor
The Edgeband Return Back Conveyor is an essential tool for the wood industry, designed to streamline the edgebanding process and improve efficiency. With its durable construction and advanced features, this conveyor will make your woodworking tasks faster and easier than ever before.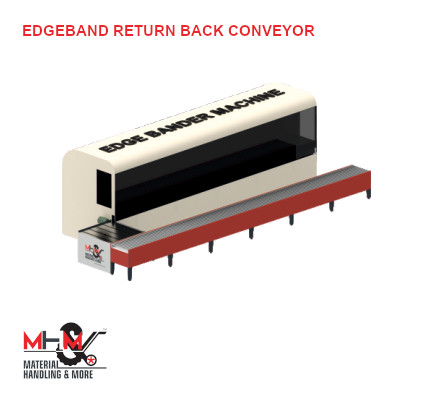 Features:
Sturdy steel frame construction for durability and stability.

High-quality rollers for smooth and efficient movement.

Easy-to-use control panel with simple interface.

Quick-release belt system for easy maintenance and cleaning.

Self-cleaning rollers to prevent material buildup.
Benefits:
Saves time and effort by automatically returning edgebanded panels to the operator.

Increases efficiency by reducing the need for manual handling and repositioning of material.

Minimizes waste and material damage by providing precise edgeband return.

Prevents damage to edgebanding and other delicate materials.

Improves safety by eliminating manual lifting and positioning of heavy material.

Increases productivity and output by allowing operators to focus on other woodworking tasks.

Easy to use and maintain for hassle-free operation.
Applications:
Our Edgeband Return Back Conveyor is suitable for:
Edgebanding of wood panels and boards.

Woodworking shops and factories.

Cabinet and furniture production.

Custom woodworking projects.

Edgebanding and laminating processes.

Any other application requiring efficient edgebanding processes.

Invest in the Edgeband Return Back Conveyor today and experience the difference in your woodworking productivity. Contact us now to learn more!