Mould Storage Rack & Tower
Material Storage Systems
Mould Storage Rack & Tower
Organize Your Moulds & Dies with Ease Using Mould Storage Rack & Tower
Our Mould Storage Rack & Tower is the ultimate solution for organizing and storing industrial moulds. With pull-out racks, it provides easy access to your moulds while maximizing your storage space. It is designed to keep your workplace clutter-free and efficient.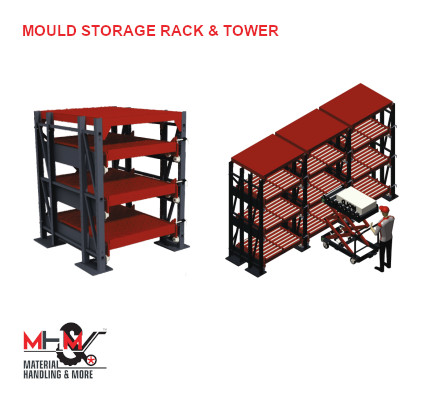 Features:
Durable Construction:Made of high-quality steel, our Mould Storage Rack & Tower is built to last.

Adjustable Shelves: The shelves can be adjusted to fit different sizes of moulds, giving you the flexibility to store various types of moulds.

Pull-out Racks: The pull-out racks make it easy to access your moulds and ensure that they are stored securely.

Space-saving Design: The Mould Storage Rack & Tower is designed to take up minimal floor space, making it an excellent solution for smaller workspaces.
Benefits:
Efficient Organization: The pull-out racks and adjustable shelves make it easy to organize and access your moulds, saving you time and effort.

Improved Safety: With a designated storage space for your moulds, you can reduce the risk of accidents and damage to your moulds.

Maximizes Storage Space: Can hold a large number of moulds, freeing up valuable floor space in your workplace.
Applications:
The Mould Storage Rack & Tower is a versatile storage solution that can be used in a variety of applications. It is ideal for use in manufacturing facilities, tool and die shops, and other industrial settings where storage of large and heavy moulds is necessary.
Get organized and maximize your storage space with our Mould Storage Rack & Tower. Contact us today to learn more.